2016 – 2020 Mission Oriented Student Success
Maria College is reanimating and refocusing its mission to make a difference today and in the future with the 2016 – 2020 Mission Oriented Student Success Plan. Successes from the 2016 strategic priorities form the backbone along with nine commitments. These were established by the Maria Board of Trustees to ensure faithfulness to the mission during the 2016 – 2020 strategic planning period. This has built a strong foundation infused with the College's core values and the Maria mission statement and is the driving force for the ordering and development of today's strategic plan.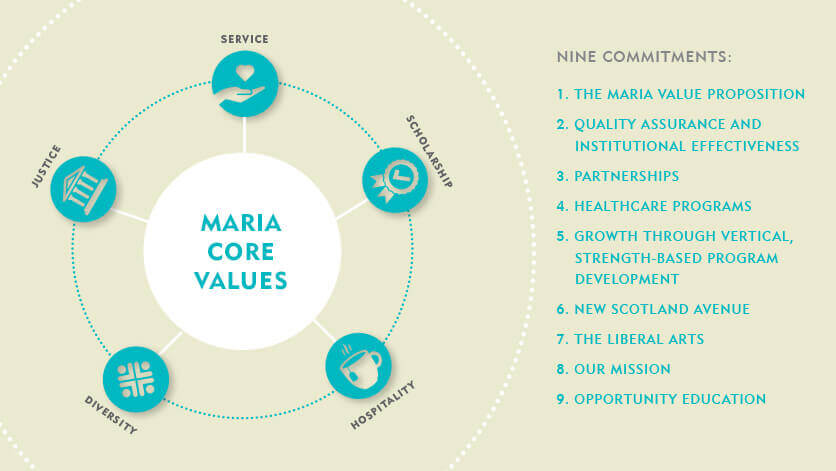 The nine commitments and core values are reflected in the five strategic initiatives derived from a strategic planning process undertaken by President Gamble in 2016. The 2016 process provided firm foundation to achieve momentum and accomplishment in student success, academic programs, mission, people and culture, and data reporting and forecasting.
The overarching goal in keeping with Maria's Mercy heritage and mission is to provide high-quality opportunity education for women, minorities, adults, the disadvantaged, and all those seeking affordable, high-quality, and career-relevant higher education.
Strategic Initiatives:
Our strategic course reinforces the College's 60-year roots and reputation in healthcare while inventing new capacities for an exciting future as a leader in health professions education within the Mercy tradition. Maria's philosophy of providing students with career-relevant opportunity education in the context of the Catholic intellectual tradition to all who can benefit from it is firmly embedded in the plan. It also brings mission and margin in tight alignment, enabling Maria to drive institutional renewal, achieve educational and financial sustainability, and foster academic excellence in an equitable and inclusive educational environment that proliferates student success.
The plan has been carefully designed to ensure the College's strategic goals and associated actions are mission- and outcome-driven to provide integrated and holistic student support services that enhance the success and retention of students and produce graduates who are both marketable and employable. Maria's 60-year history in Mercy education is honored by connecting her to A BRIGHT FUTURE.
FOR MORE INFORMATION
For more information on the strategic plan, please contact Maria College's Chief Planning Officer:
Email: vbattell@mariacollege.edu
Phone: (518) 861-2571