by Mary C. Sullivan, RSM
Maria College continues firmly in the tradition of Catherine McAuley and the works of mercy she founded.
Maria College is the Mercy college whose academic offerings and philosophy most immediately remind me of the House of Mercy that Catherine McAuley (1778-1841), the founder of the Sisters of Mercy, established on Baggot Street in Dublin, Ireland, in 1827. In the early 1800s, after the death of both her parents, Catherine began to live with Catherine and William Callaghan, an older, childless couple. She served as a companion to Mrs. Callaghan, and as the manager of their household, first in Dublin and then in the village of Coolock. Catherine Callaghan died in 1819, and when William Callaghan died in 1822, he revealed their respect and gratitude for Catherine McAuley by naming her the sole residuary legatee of their estate. It was a large fortune, estimated to be between $1 million and $2 million dollars today.
Catherine's family and friends urged her to marry, or at least to stay on in Coolock. Instead, she chose to implement the vision that had for years "haunted her very dreams." She decided to devote her inheritance to "the benefit of the poor," and to build a very large, three-story House of Mercy on Baggot Street, Dublin. She intended the House to serve three purposes: to provide a live-in shelter for poor young women who were unemployed, or working as domestic servants in households where they were sometimes exposed to sexual abuse or harassment; to provide a free school for poor girls who had no other means of education; and to be a center from which she and other volunteers could reach out to the sick and dying poor living in dark cellars along Dublin's back alleys.
The House of Mercy was opened on September 24, 1827, 190 years ago — and it is still standing, as Mercy International Centre, still promoting the spiritual and corporal works of mercy to which Catherine McAuley gave not only her fortune but her very life.
By early 1829, after she sold Coolock and cared for her dying sister and brother-in-law, Catherine moved permanently into the House of Mercy. She was by now the adoptive mother of at least nine children, ages 7 to 18: two cousins and two orphans she had cared for at Coolock, and the five children of her sister's family — two girls and three boys. She soon sent the boys off to boarding school. In time, Catherine and her co-workers began to see the wisdom of founding a new religious congregation, if they wished the merciful efforts of the House of Mercy to continue beyond their lifetimes. Eventually Catherine and two others served a required novitiate with the Presentation Sisters, and on December 12, 1831, they professed their religious vows as the first Sisters of Mercy.
When I think of the origins of the House of Mercy on Baggot Street, and then study the self-descriptions and academic offerings of Maria College, I am moved by this striking realization: Maria College is a 21st century House of Mercy, firmly in the tradition of Catherine McAuley and the works of mercy she founded and to which she gave the last 14 years of her life.
In your College brochures, you say that Maria College is dedicated to "the pursuit of truth and know-ledge, and to the furtherance of the social, political, economic, and spiritual well-being of the human community." You also say that "the identity and mission" of the College are "uniquely expressed by living the values of compassion, justice, hospitality, and service," and that "a Maria education" is "grounded in programs that make a difference in the lives of others by combining academic study with caring service." Catherine McAuley would be truly at home in such a place, one that is trying its best to be a modern version of the House of Mercy.
Think of the Baggot Street shelter for poor women
Today those who come to Maria College need to acquire many things: useful skills, confidence in their own strengths and abilities, the capacity and desire for lifelong learning, and secure employment when they leave the college, if not before.
This was what the House of Mercy was all about. In the original Mercy Rule — which Catherine McAuley composed — in the chapter on the training of the "distressed women" received into the shelter, she says: Suitable employment shall be sought for and great care taken to place [these women] in situations for which they are adapted, in order that they may continue such length of time in their service as shall establish a character [i.e., a good character and employment reference] on which they can depend for future support. Many leave their situations not so much for want [i.e., lack] of merit as incapacity to fulfill the duties they unwisely engaged in (Sullivan, 2012, p. 299).
Valuing truthfulness and knowledge, gaining appropriate skill training, and receiving perceptive student advising were as crucial to the success of those in the shelter at the House of Mercy in Dublin as they are to the success of Maria's students.
In the Mercy Rule she composed, Catherine also says that the women in the shelter "shall not be encouraged to remain long in the House, as it will generally be… more conducive to get them soon into the state and employment by which they are to live" (Sullivan, 2012, p. 299). Here Catherine is eager to develop the women's confidence in their own capacity to care for and support themselves, just as Maria College seeks to graduate students who mature beyond dependence on the College for the decisions that in the future they must inevitably make on their own.
When I think of Catherine's great care to train the women sheltered in the House of Mercy so they would have useful, employable skills and the confidence to exercise these skills to their own benefit, I think of the very important skills Maria College offers through its associate degrees and certificate programs — for example, in occupational therapy, bereavement, gerontology, management, paralegal services, and practical nursing. All these programs provide knowledge and training in sophisticated, modern alternatives to the domestic services for which Catherine hoped to prepare the women sheltered in the House of Mercy.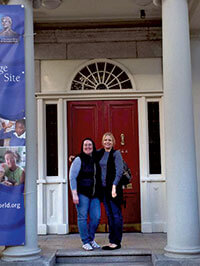 Pilgrimage to Baggot Street: Victoria Battell and Dr. Anne Jung on the steps of Catherine's House on Baggot Street in Dublin, Ireland. They were participating in the International Mercy Leadership Program in September 2016.
Think of the 200-300 poor barefoot girls who were welcomed and educated in the poor school of the House of Mercy in Dublin
In Catherine's day, there was no formal education available to poor girls whose families could not afford to pay the tuition required in the boarding schools for rich young girls. The faculty and staff of Maria College know how crucially necessary a sound and full education is to all the young girls and women of today. We have only to look at the appalling situations in many African and Asian countries, and listen to the brave and prophetic young Pakistani Malala Yousafzai to realize the personal and social benefits that derive from the full education of girls and women.
Catherine McAuley was well aware of this need. As she wrote in the chapter of the Mercy Rule "On the Schools": No work of charity can be more productive of good to society, or more conducive to the happiness of the poor than the careful instruction of women, since whatever be the station they are destined to fill, their example and advice will always possess influence, and where ever [such a] woman presides peace and good order are generally to be found (Sullivan, 2012, p. 297).
The full education and liberation of men and boys is also essential to human prosperity. So one can only applaud the 1971 decision of Maria College to open its doors to male students. Today the goal of serving the "good of society" and increasing the "happiness of the poor" needs all of us working together, male and female, as Maria College now demonstrates.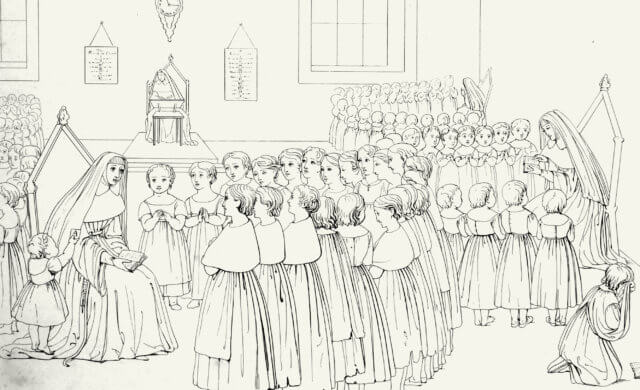 As I reflect on the school in the House of Mercy on Baggot Street, I also want to commend Maria's commitment to education in the liberal arts. Having served in the College of Liberal Arts at Rochester Institute of Technology (RIT) for nearly 35 years, and as its dean for 10 of those years, I know well the essential value of liberal learning and critical thinking tools, no matter in what form of "caring service" one eventually chooses to specialize.
Thus Maria College, through its educational programs and spirit, can be called a faithful modern version of the House of Mercy on Baggot Street, Dublin—even though its students do not generally come into its classrooms barefoot!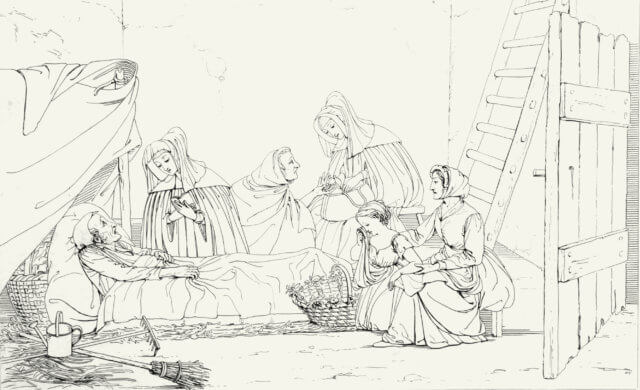 What about the visitation of the sick and the dying, the third characteristic service of the House of Mercy on Baggot Street?
At Maria College the nursing and healthcare degrees and certificates, as well as the programs in psychology, bereavement, gerontology, and occupational therapy are sophisticated, modern extensions of the caring service of the sick and dying that was the daily goal of Catherine McAuley and the first Sisters of Mercy as they set out each morning and walked the back alleys of Dublin.
In her chapter of the Rule on the "Visitation of the Sick" (Sullivan, 2012, p. 297-99), Catherine says many things that also describe the "caring service" promoted in the nursing and healthcare emphases at Maria College:
She speaks of comforting the sick and dying poor, as in them one can regard the person of Jesus Christ, who has said "…as long as you did it to one of these members of my family, you did it to me."
She advocates "tenderness" and reminds us of Jesus Christ's own "great tenderness for the sick."
She recognizes the "unwearied patience and humility" that are needed in anyone who cares for the sick and dying.
Catherine urges tender sensitivity toward the fears and feelings of the dying. She says: "When recovery is hopeless, it must be made known with great caution and… by degrees, assuring [the dying] of the peace and joy they will [soon feel…]."
She recommends using "every practicable means to promote the cleanliness, ease and comfort of the patient," as well as speaking "in an easy, soothing, impressive manner so as not to embarrass or fatigue the poor patient."
And, finally, she urges reverence as one enters a patient's home or hospital room, mindful that where "two or three are gathered in God's name, God will be."
One can, I believe, see the same merciful content of Catherine's chapter on the "Visitation of the Sick" in the catalog descriptions of the many nursing and healthcare programs and courses offered here at Maria.
So, once again, I see Maria College as a modern House of Mercy—which is an honored, even sacred, Mercy designation and distinction.
The works of mercy generously begun on Baggot Street, Dublin, in 1827 are now the inspiring inheritance and mission of all in our Mercy family, including all our co-workers and partners in ministry. The present Constitutions of the Sisters of Mercy of the Americas says the following:
As Sisters of Mercy we sponsor institutions to address our enduring concerns and to witness to Christ's mission. Within these institutions, we, together with our co-workers and those we serve, endeavor to model mercy and justice and to promote systemic change according to these ideals.
As the faculty and staff of Maria College go about their merciful work, I hope they will be able to hear Catherine McAuley say to them what she once said to the benefactors of a public bazaar held in support of the House of Mercy in Dublin. After the bazaar, Catherine placed the following "Thank You" notice in a Dublin daily newspaper:
If our all-bountiful Redeemer, who came on earth to teach the Works of Mercy by precept and example, has promised that a Cup of Water given in his name shall receive a reward, what may we not hope he will grant to those, who, by the effect of their example, and their influence in society, have provided for His afflicted people (Freeman's Journal).
Much gratitude is owed to Maria College for the many Cups of Water it faithfully offers to its students, and through them, to all those their students will one day serve.
Sullivan, Mary C. The Path of Mercy: The Life of Catherine McAuley. Catholic University of America Press, 2012
Freeman's Journal, April 10, 1834
Illustrations: Works of Mercy by S. Clare Agnew © Mercy International Association 2018, used with permission.