MERCY DAY: SEPTEMBER 24
(weeklong celebration: September 18-24)
REMEMBRANCE: NOVEMBER 11
THE LIFE OF CATHERINE McAULEY
(September 29, 1778 – November 11, 1841)
FOUNDATION DAY: DECEMBER 12
Maria College traces its heritage to Catherine McAuley, who founded the Sisters of Mercy in Dublin, Ireland, in 1831. She was passionate about helping women and children in need and believed that education was a key to one's ultimate success. The Maria community, led by the Maria Mission Animation Committee, celebrated three major Mercy events in 2017 to continue her legacy of compassion, justice, hope, peace, and courage. These events, along with countless acts of kindness, service, and support, provide daily reminders that the door of Mercy is open at Maria College.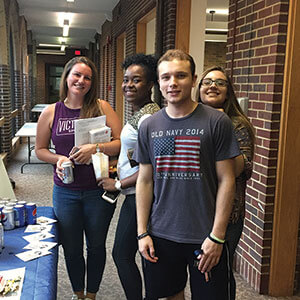 Animating the Maria Community Various activities allowed reflection on the meaning of Mercy. An inspiring "stained" glass window was one of the creative outcomes. Thoughts and expressions were written by participants on colorful, heart-shaped paper and displayed on windows.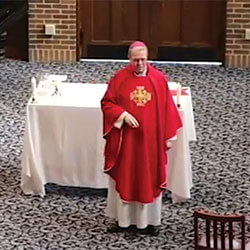 Celebration Mass On September 20, Bishop Edward B. Sharfenberger, DD, offered a votive Mass in Marian Hall's Fitzgerald Court. Prayers were offered for the present day mission at Maria and all who bring grace and Mercy in the world.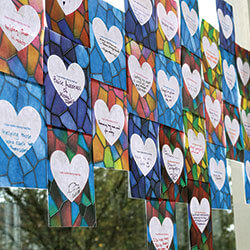 "What Mercy Means To Me" glass display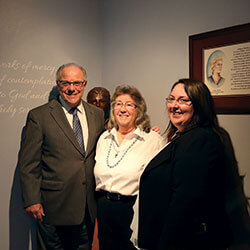 Catherine McAuley Statue Unveiling Mercy Week began with the unveiling of a comissioned bronze sculpture in the likeness of Catherine McAuley, created by artist Marie Henderson, RSM. Above left to right: President Tom Gamble, Marie Henderson, RSM, and Vice President Victoria Battell.
November 11: Remembering Catherine's Life She lived two centuries ago, but her influence today is evident in over 40 countries, where sisters, laymen, and laywomen continue to meet the needs of those seeking mercy and to respond to issues of poverty and injustice.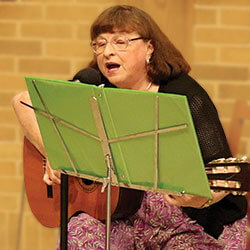 Catherine's Song—A Musical Prayer A spiritual aura graced the Maria campus as vocalist and guitarist Judy Rosebrook sang Catherine's "Suscipe" (music by Elaine Deasy, RSM). The Maria community sang the refrain, "My God, I am yours for time and eternity…"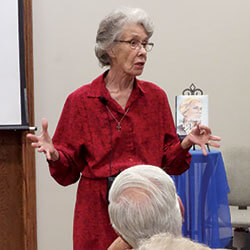 Mary Sullivan, RSM Professor Emerita of Literature and Dean Emerita of the College of Liberal Arts at the Rochester Institute of Technology, where she served for 33 years. She also authored many books on Catherine McAuley. Read more about this.
Legacy of Hospitality and Community As she lay dying, Catherine McAuley asked a sister to tell the community to "have a good cup of tea when I am gone… and comfort one another. We should be shining lamps, giving light to all around us." Catherine McAuley, first Sister of Mercy. Watch the 2017 Mercy Week video at: mariacollege.edu/mercy-week