At times, the college experience can be daunting. That's especially true if, like so many Maria students, you're also balancing work and family life. For these students, strong support services can make an enormous difference, setting the stage for success at Maria and beyond.
To better serve these students — and to deliver on a mission that includes a commitment to "outstanding and holistic student support services" — in 2017 Maria opened the Frank E. O'Brien, Jr. Student Support Center. Located in Mercy Hall, the state-of-the-art facility is devoted to meeting students' academic, personal, and spiritual needs. It combines comprehensive, centralized services with a warm, welcoming environment that helps students gain confidence while developing life and study skills.
The seeds for the Frank E. O'Brien, Jr. Student Support Center were planted in 2016, soon after the arrival of Maria President Thomas J. Gamble, Ph.D. As part of a summer strategic planning session, Dr. Gamble challenged College leadership to identify and address barriers that prevent Maria students from realizing their education and career goals. Leadership responded with a plan to create a Student Affairs Department to administer student support services by assembling a mission-driven team and creating a one-stop shop where students can easily tap an array of resources.
The Maria community quickly rallied around the project — and the decision to name the new center in memory of the late Frank E. O'Brien, Jr. Those who knew the longtime chairperson of the Maria Board of Trustees say the center continues his work at the College by providing the types of services he supported during his lifetime. The center also reflects Maria's enduring connection to the Religious Sisters of Mercy and their founder, Catherine McAuley. Service to others has been the hallmark of every Mercy institution, starting in 1827 with the first House of Mercy in Dublin, Ireland. As Dr. Gamble is fond of saying, "As it was on Baggot Street in Dublin, so it is today at 700 New Scotland Avenue in Albany."
"The personal attention is just what I need to help me move forward with someday being a nurse…Everyone is so supportive in helping me put one foot in front of the other." — Rebecca Petrucci-Little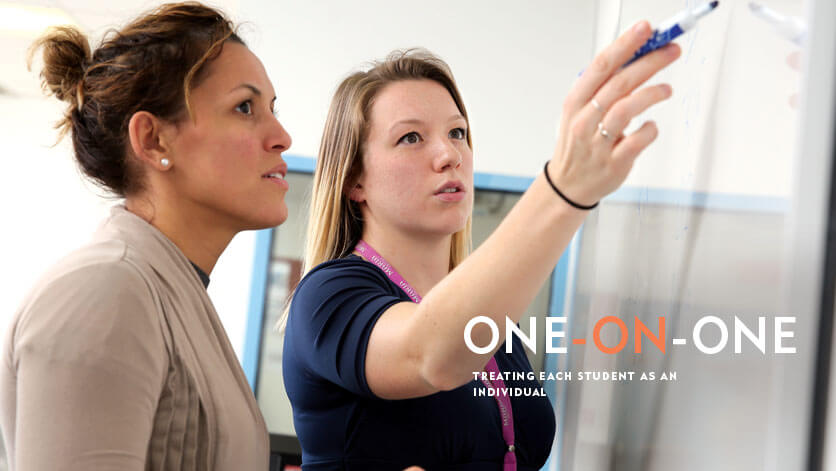 A committed, coordinated team
Maria selected Victoria Battell, to lead the effort to expand and enhance student support services as dean of students and vice president of mission, planning, and Student Affairs. Andrew Ledoux was named to the new position of associate dean of Student Affairs and deputy Title IX coordinator. They are joined by a top-notch, committed group of counselors, tutors, and other support professionals. Many were already part of the Maria community, delivering vital services via a less-coordinated approach, in locations around campus. Now, the team is together under one roof, with the tools and skills to best serve Maria students.
"Student Affairs is home to highly dedicated, solution-oriented individuals who care about supporting our students and their learning styles," Ledoux says. "Identifying the right individuals, and capitalizing on their strengths, has been incredibly important to the develop-ment of the department."
The goal is to encourage students to take advantage of the services available to them — starting on day 1 and continuing throughout their time at Maria. The easier it is to access services, the more likely that students will seek support. That's why Accessibility Services, Career Services, and tutoring are conveniently located in the Frank E. O'Brien, Jr. Student Support Center. The center also offers distraction-free testing space in the Callaghan Room, and is home to Maria's three opportunity programs for students who face financial and academic challenges: the New York State Arthur O. Eve Higher Education Opportunity Program (HEOP); HOPE, Maria's institutionally funded program; and the Renaissance Scholars Program.
"We made a concerted effort to co-locate services to support the whole person," Victoria says. "On any particular day, a student can walk into the center and get the support they need, whether it's help preparing for an exam or assignment, advice on handling a personal crisis, or a sympathetic ear when life takes an unexpected turn."
Additional space is being created in the newly renovated McAuley Hall, enabling Student Affairs to provide more private offices for mental health counseling, a Catholic chapel, an interfaith room for students of different beliefs, and a designated resource room for veterans, furnished by the Veterans Miracle Center of Albany.
Helping students realize their dreams
Rebecca Petrucci-Little started at Maria this spring as a student in the two-year General Studies Program. Her goal is to pursue an associate degree in nursing, but first she must pass the Test of Essential Academic Skills (TEAS). In the past, test anxiety has held her back. At Maria, Petrucci-Little is tackling the stumbling block head on — with help from the Frank E. O'Brien, Jr. Student Support Center.
Kim Noakes, MSEd, MHC, Counseling and Accessibility Services Coordinator, arranged for Petrucci-Little to receive support services to help reduce anxiety and boost her confidence. Twice a week, Petrucci-Little works one-on-one with Colleen Reilly, a professional tutor. Together, they review typical TEAS questions and test-taking strategies. Already, Petrucci-Little is seeing positive results of above-average and excellent grades on tests and quizzes.
"The personal attention is just what I need to help me move forward with someday being a nurse, which I know is my calling," Petrucci-Little says. "Everyone is so supportive in helping me put one foot in front of the other. I really feel that everyone has taken a personal interest in my goals."
Her experience is exactly what the College intended when creating the new student support center and the Mary Beth O'Brien Tutoring Center. "Our vision is to build a dynamic, collaborative learning environment where students know it's safe to come with different learning styles, and they do not feel isolated," says Jon Coller-Takahashi, Director of Student Support. "We've expanded the tutoring center workspace and operate it as a centralized tutoring model — a busy hub where students can get assistance with multiple high-attrition academic subjects, such as physics, anatomy and physiology, chemistry, mathematics, English as a second language, and writing."
Named for a former Maria trustee, the Mary Beth O'Brien Tutoring Center provides judgment-free academic support for students of all majors. Space is designed to accommodate one-on-one and collaborative sessions. A state-of-the-art online scheduling, recordkeeping, and recording system — funded by a U.S. Department of Education Perkins Act grant — enables students to make appointments online. The system also allows Student Affairs to track service utilization and student satisfaction. Nearly 600 tutoring sessions took place in fall 2017, and early results indicate that students overwhelmingly rated their experience as "excellent." Fully 98 percent strongly agreed that they were comfortable working with a tutor, and 99 percent would return or recommend the service to a friend.
A team of faculty, professional tutors, and peer tutors provides individualized tutoring as well as a variety of services that target common concerns. Learning labs offer opportunities for students to work with their peers on challenging coursework. Seminars and workshops emphasize test-taking strategies and other skills to help students become independent, lifelong learners and critical thinkers. Special sessions help students prepare for critical exams, such as the TEAS, Test of English as a Foreign Language, National Council Licensure Examination (NCLEX) for nursing students, Certified Occupational Therapy Assistant (COTA) exam, and Graduate Record Examinations (GRE).
The tutoring team continually finds new ways to engage students and improve outcomes. For example, tutors are developing customized modules that faculty can use in the classroom to help students master complicated concepts in more challenging subjects, such as chemistry. Equally important, in keeping with Maria's holistic approach, tutors are quick to refer students for additional support services, both within and beyond the College.
The most important step, according to the Student Affairs team, is for students to walk through the door. Once that happens, a world
of services becomes available.
Jason Coley, Assistant Director of Student Support and Planning, says more and more students are getting that message. "Building trust and a supportive learning environment to encourage individual growth and development has been our biggest success in the past year," he says. "Knowing that someone feels safe to talk about their learning deficits so we can design a plan to help them achieve success is the best feeling in the world."
"Our goal is to help students and alumni put their Maria education to work to make meaningful contributions to their employers, organizations, and communities." — Victoria Battell
Tapping into opportunity
The Frank E. O'Brien, Jr. Student Support Center also is the ideal home for Maria's Accessibility Services and the College's three opportunity programs. The goal of all these programs is to help students build on their strengths and develop the skills necessary for long-term success. Locating the programs near other support services provides yet another incentive for students to take advantage of all that Maria offers.
Accessibility Services helps ensure that students with disabilities have equal access to educational programs and the opportunity to participate in all aspects of campus life. Services are designed to promote students' independence, self-advocacy, and development, and to ensure that students are recognized for their abilities — not their disabilities. Students self-identify, register with Accessibility Services, and work with Accessibility Services staff on the necessary accommodations.
Opportunity programs — HEOP, HOPE, and Renaissance Scholars — provide a combination of financial assistance and academic and personal support for students who otherwise would not have the opportunity to attend college. Qualifying students receive help with expenses, including tuition, fees, and books. Equally important, students benefit from personal mentoring and coaching; a strong, supportive peer network; and comprehensive academic support services.
Each student is assigned an advisor who provides intensive, individualized support and collaborates with colleagues "to make sure the students' needs are met," says Sade Moore, MSEd, Assistant Director of Opportunity Programs. "Everything we do is student-centered."
Private, nonjudgmental counseling
Maria's holistic approach recognizes the additional stress faced by the College's nontraditional students and acknowledges the impact that everyday life can have on academic achievement. Students in their 30s and 40s typically are juggling family, work, and academic responsibilities. Some also are struggling to make ends meet. For them, the counseling relationship offers a unique opportunity to speak freely with a trained, trusted professional and to consider alternative ways of thinking and behaving.
"Counseling Services supports the overall wellness of the campus community and the Mercy mission by providing free, confidential support in a welcoming, nonjudgmental environment," Noakes says. "The approach to counseling is authentic and compassionate. It is important to show mercy to individuals who seek a 'safe' place to explore the challenges in their life." Students are encouraged to talk about social, emotional, or behavioral problems that are creating distress or interfering with their ability to function. Some seek help with issues related to coursework, such as difficulty concentrating or completing academic tasks, procrastination, and other self-defeating behaviors and habits. Others focus on family or relationship problems, sexual concerns, compulsive behaviors, problems with alcohol or other drugs, domestic violence or social assault, or a variety of other issues.
Noakes urges students to reach out for help, regardless of the reason. "Counseling can be transformative," she says. "A certified counselor can help students gain personal insights and coping skills that they can draw on long after they graduate from Maria."
Nurturing the spirit
In August 2017, in keeping with its Mercy heritage, Maria created the ministry of Pastoral Care to meet the spiritual and pastoral needs of the College's faculty, staff, and students. Pastoral Care focuses on enriching the spiritual and emotional lives of individuals regardless of their religious beliefs. "Maria opens her arms to individuals of all faiths," says Chris Connolly, OP, who heads the Pastoral Care ministry. "Everyone is included and welcome."
Pastoral Care ministers are trained to listen, respond empathetically, make assessments, and provide resources to those who request help. "We provide a compassionate ear for those who need a non-therapeutic space to talk," Sr. Chris explains. "Many times, a conversation can help someone self-identify areas that will lead to greater understanding and inner wisdom." She stresses that pastoral care is not the same as — or a replacement for — therapeutic coun-seling. "I'm very conscious of the boundaries between pastoral care and counseling and when to make a referral to Maria Counseling," Sr. Chris says. Professionals in both offices do work hand in hand, however, to create a "you can do it" environment. Sr. Chris also provides spiritual direction for individuals interested in a deeper personal relationship with God. Here again, the emphasis is on respectful listening, helping students recognize and be guided by their own experience of God. "We may offer suggestions for reflection and prayer, but we don't tell people what to do," Sr. Chris says.
Most of all, she views her role as a source of support and encouragement. "Many of our students face so many challenges and are trying so hard to pull themselves up and improve themselves," she says. "It's a gift to be there as a listener to help provide comfort and to walk with them."
"Counseling can be transformative. A certified counselor can help students gain personal insights and coping skills that they can draw on long after they graduate from Maria." — Kim Noakes, MSED, MHC
Career connections
Maria Career Services plays a vital role in fulfilling Maria's mission of preparing students for lives of service to others. Coursework and hands-on experience provide the knowledge and skills, and Career Services adds the finishing touch: the tools to connect with potential employers.
Students can come to Career Services to explore their options at Maria and in the workforce. Since career planning should start almost as soon as students arrive at the College, Maria pre-registers all students, free of charge, for Career Services' online job board and career resource system. Furthermore, to assist both associate and bachelor's degree students, Career Services offers two- and four-year plans that help keep students on track. Individualized services—including personality assessments and career planning, résumé critiquing, mock interviewing, and job preparation—take the personalized, student-centered approach that defines a Maria education.
Maria alumni have access to Career Services long after graduation. Whether to network with peers and potential employers or to consider new options, alumni can turn to Career Services for guidance on advanced education and other pathways to service and success.
"Our goal is to help students and alumni put their Maria education to work to make meaningful contributions to their employers, organizations, and communities," Victoria says. "It is yet another way that all of us, as members of the Maria community, can embody the Maria mission, embrace the Mercy charism—and find ways to continually serve others."
A Campuswide Commitment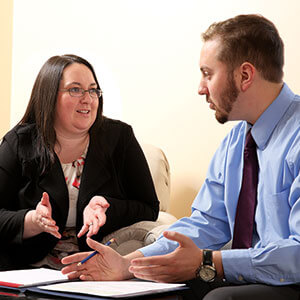 Compassion, encouragement, and personal attention aren't exclusive to the new student support center. Those values are reflected throughout the Maria community, where faculty, staff, and leadership model the same commitment to service that they seek to instill in students.
Russ Blair, DNP, Associate Professor in Nursing, looks for that commitment when considering new members for the Nursing Department. A husband and father of Maria graduates, Dr. Blair has seen the difference Maria's approach can make.
"Maria is all about lifting people up and helping them," he says. "Things come up in life, and it's important for us to help students adjust. Through something as simple as a conversation, we can help a student pivot. And because we have cared for them, they can care for
others and become better nurses."
For Tracy Jeune Ciufo, honor student in liberal arts, the time at Maria has been life-changing. She gives much of the credit to Victoria Battell, Dean of Students and Vice President of Mission, Planning, and Student Affairs. With Victoria as a mentor, Ciufo has undergone what she describes as a "spiritual awakening" and has gotten back in touch with her creative, artistic side. Two of her paintings are displayed at Maria—in Victoria's office and in a room in Mercy Hall.
Ciufo came to Maria in fall 2015, intending to study nursing. Instead, "the readings assigned in my coursework inspired me to take another direction, and another door opened," she says. This spring, Ciufo will receive an AA in liberal arts, with a concentration in religious philosophy. She is considering further studies in theology.
She also will continue to draw on her Maria experience, which has helped her come to terms with her mother's death, "get closure, and has made me a more grounded person today. Maria has done so much for me personally," Ciufo says.
Although every student's story is different, the hope is that, like Ciufo, all Maria students draw strength and purpose from their time at the College long after they leave campus.
"We live our mission by providing students with a path to achieve serenity in their inner lives, as well as satisfaction and fulfillment in their personal and professional aspirations," Victoria says. The goal is for their Maria education to remain "a guiding light for living their life and going forward to help others."
Photo above: Victoria Battell and Drew Ledoux, Associate Dean of Students
Frank E. O'Brien, Jr
A Legacy of Support for Students
For 27 years, as chairman of the Maria College Board of Trustees, Frank E. O'Brien, Jr. worked tirelessly to create opportunities for Maria students. In a fitting tribute, the place that continues the late O'Brien's efforts also bears his name: the Frank E. O'Brien, Jr. Student Support Center.
Members and friends of the Maria community gathered September 21, 2017, to dedicate the center, memorialize its namesake, and express appreciation to all who helped create a facility where students can receive holistic, centralized support services.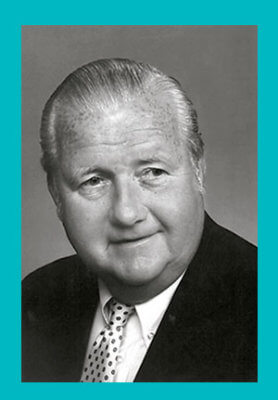 "It's exactly the kind of place my dad would have championed," says Maureen O'Brien, who serves on the Maria Board of Trustees and chairs its Advancement Committee. "Whether in business or in life, my dad loved to see people succeed. He worked hard to make sure that the people around him had opportunities to do well."
An Albany native with deep ties to the community, Frank O'Brien was known for his quiet generosity and unwavering commitment to the organizations he supported. A graduate of The Albany Academy for Boys and Notre Dame University, Frank worked briefly as an engineer in Detroit and Chicago. He returned to Albany in 1960 to join his father — and eventually succeed him as president — at Fuller and O'Brien Insurance Agency. Frank also served as president of the Contractors, Agents, and Brokers Association of New York State.
Frank earned a reputation for giving without hesitation but shying away from recognition. At Maria, he worked alongside President Laureen Fitzgerald '61, RSM, from 1985 until his death in 2012. Together, Frank and Sister Laureen expanded certificate and degree offerings, increased enrollment, and introduced flexible course schedules to meet the needs of working adult students.
The fundraising campaign for the Frank E. O'Brien, Jr. Support Center kicked off in January 2017. Inspired by Frank's memory and his example, donors were quick to respond. In fact, the first-phase goal of $300,000 was met well ahead of schedule.
Maureen O'Brien and her husband Paul F. Vogt — together with Frank's widow and former Maria trustee, Mary Beth O'Brien — spearheaded the effort. Daughters Constance, Kathleen, Cara, and Patricia joined to make it a family endeavor.
More than 100 donors, including the BBL Charitable Foundation, Paul and Paula Colarusso, Dan and Ellen Hogarty, the Massry family, David Rubin and Carol Ju, and Sano-Rubin Construction, provided generous, major-level gifts. All contributions are acknowledged on a donor wall that also was unveiled during the September dedication ceremony.
The ceremony also marked the official opening of two specialty areas within the Frank E. O'Brien, Jr. Student Support Center: the Mary Beth O'Brien Tutoring Center and Donald S. Rubin Student Support Suite. A longtime Maria trustee, Rubin was vice-chair for more than 20 years of Frank's tenure as chair.
"We sincerely thank all those who generously contributed," Mary Beth O'Brien says. "Frank would have been humbled and so thrilled."