Until 1970, Marian Hall was the chapel of a monastery of cloistered Dominican nuns. Although these nuns left the building in the 1970s, the Dominican presence remains through the stained glass windows of five Dominican saints. As the Dominicans celebrated their 800th anniversary in 2017, we asked Fr. Lawrence Lew, OP, an English Dominican friar studying in Washington, D.C., to come up and introduce us to these saints. Hence he showed that their lives and example remain inspirational for our college today.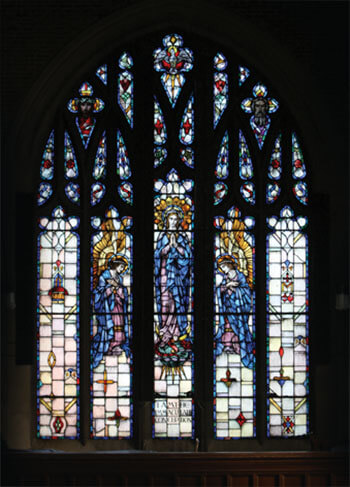 Immaculate Conception (main window)
The Dominican monastery was dedicated to the Immaculate Conception of Mary, who is patroness of the USA. Mary is shown in prayer to the Blessed Trinity, which is represented in the three images above her. She is shown treading underfoot evil, symbolized by the serpent. Like Mary, may we also seek God in study and prayer, and reject whatever is contrary to his goodness and truth.
St Rose of Lima
Born in Peru in 1586, St. Rose is the first canonized saint of the Western Hemisphere, and since 1671 she has been patroness of South America. She grew herbs and prepared medicines for the poor. The little infirmary she opened led to social services for the city of Lima.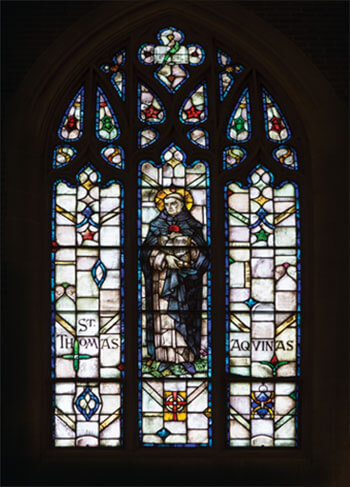 St Thomas Aquinas
One of the Church's greatest theologians, St. Thomas was confident of the goodness of human nature as humans are endowed with reason and intellect. Our reasoning minds help us understand the truths of the Faith as revealed by Christ, for there is a deep harmony between faith and reason.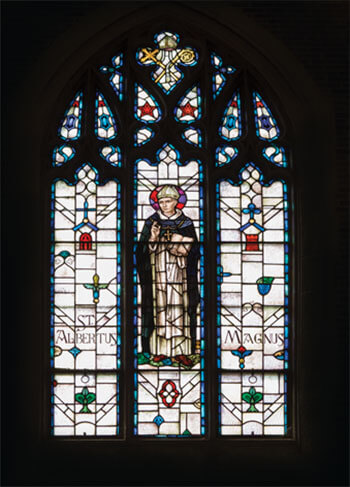 St Albert the Great
The mentor of St. Thomas, Albert is patron saint of scientists. "The whole world," he said, "is theology" because the world is logical, reasonable, and capable of scientific investigation. The world thus reflects its Creator whom St. John refers to as the divine Logos, i.e., the Word of God who orders all things according to God's wisdom.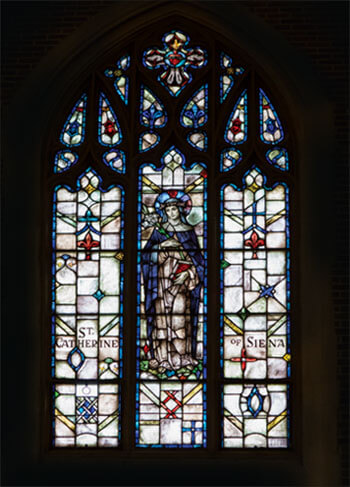 St Catherine of Siena
This 14th-century saint is patroness of Europe and one of the first women doctors, i.e., Teachers of the Church. She labored for the unity and reform of the Church at a difficult time in history, and she stands for the mystical tradition of the Dominican Order.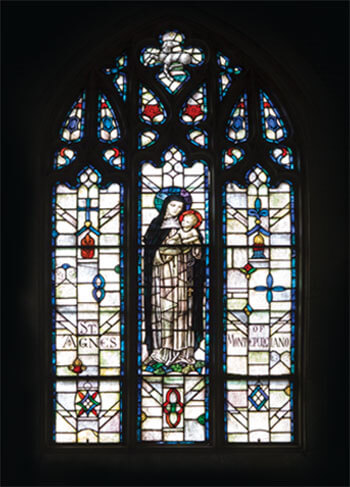 St Agnes of Montepulciano
This is the only saint to have been a cloistered Dominican nun like the sisters who once worshipped here daily. St. Catherine revered St. Agnes as a model of humility, and she once wrote, "There is no humility without charity," that is, love for God, which we gain through prayer, and indeed, genuine study, which is the quest for Truth.
Descriptions of saints provided by Fr. Lawrence Lew, OP