In two short years after becoming a baccalaureate institution, Maria has launched bachelor's degree programs in four high-demand majors: psychology, healthcare management, health, and occupational sciences, and liberal arts. All four programs are rooted in the College's core strengths and the needs of New York's Capital Region. All fulfill the dreams of our founders, who envisioned Maria as a four-year educational institution. Perhaps most important, by providing clearly defined academic and career pathways, all deliver on Maria's commitment to preparing students to succeed and to serve.
Strategic Choices
Take a closer look at Maria's new four-year degree programs, and a common theme emerges. In every instance, the College is drawing on a fundamental strength to meet the needs of today's students and employers.
The bachelor's degree in health and occupational sciences (HOS) is an excellent example. An outgrowth of Maria's associate degree program for occupational therapy assistants (OTA), the HOS major taps the College's 40 years of experience in preparing OTA students for careers in education and healthcare settings. The resulting curriculum, which includes theoretical and applied science and classroom and internship experience, positions students for a variety of opportunities. For OTA graduates, the BS in HOS also is the next step in preparing for an advanced degree in occupational therapy.
Ultimately, Maria expects to offer about a dozen bachelor's degree programs, all in areas where the College provides a distinct advantage. Already, Maria is well on its way, with four new degree programs since 2013, a Bachelor of Science in Nursing launched in 2010 with other programs under consideration.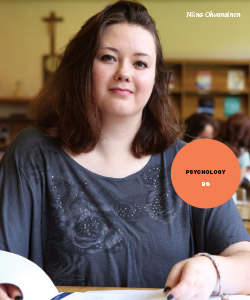 "I found the material intriguing and felt that it could be a potential career path. The class scheduling is very flexible, and the staff is a pleasure." — Nina Ohvanainen '18
A Strong Case
The bachelor's degrees, closely aligned with Maria's associate majors, provide students with greater placement power in the workforce. As employer studies demonstrate, a four-year degree can help open doors at every stage of a career. Maria's flexible schedule formats for day, evening, weekend and online provide higher education consumers in the region options whether they're starting or continuing their education.
Maria is determined to offer these advantages to students without losing sight of the financial pressures that so many families face. Maria's leadership feels strongly that the College will remain in tune with the demands of a new business model for higher education. Affordability and accountability are paramount in the eyes of the student, the parent, and the federal government.
As a result, Maria's bachelor's degree programs focus on fields that anticipate significant growth nationally and in the Capital Region, where so many Maria students will continue to live and work. The curricula combine theory and practical experience to help give Maria graduates a competitive edge, and support services help students persevere. Equally important for many students, financial aid programs—and tuition that has earned Maria a national reputation for affordability—help place the new degrees within reach.
The New Majors
BS IN PSYCHOLOGY, APPROVED 2013
Niina Ohvanainen '18 traces her interest in psychology to a high school class that offered college credits through Syracuse University's Project Advance. "I found the material intriguing and felt that it could be a potential career path," she recalls.
Ohvanainen applied to Maria's psychology program as an incoming freshman and was among the first to be awarded the Presidential Psychology Scholarship. She also is the first to serve as vice president of Maria's Psychology Club. Her long-term goal is to pursue a doctoral degree and work with children as a clinical psychologist, and she is confident that her Maria education will provide an excellent foundation.
Laying that foundation is one of the goals of the BS in psychology program—to prepare students for the advanced education required for careers in specialty areas such as clinical psychology, forensic psychology, and industrial-organizational psychology. The program also equips graduates with the skills necessary for employment in social services, government, business, research, the health professions, and the criminal justice system.
With 21 credits in electives and a required internship or cooperative education experience, Maria's BS in psychology also encourages students to pursue their own interests and provides real-world experience. Like most Maria programs, the psychology major accommodates students who "want to pursue their education but have other responsibilities to tend to," Ohvanainen says. "The class scheduling is very flexible, and the staff is a pleasure."
BS IN HEALTHCARE MANAGEMENT, APPROVED 2014
As the U.S. population ages, forecasters anticipate increased demand for long-term care, rehabilitation, and other healthcare-related services. In fact, the U.S. Bureau of Labor Statistics forecasts a growth rate of 22 percent in healthcare management jobs in the next decade—and graduates of Maria's healthcare management program will be well-positioned to fill these openings.
The new degree program prepares students for mid-level management positions in settings including corporate health and wellness departments, pharmaceutical manufacturers, nursing homes, hospitals, assisted living facilities, and rehabilitation centers. Courses are taught by full-time faculty as well as working healthcare management practitioners. Internships provide students with the work experience needed to strengthen students' skills and career prospects.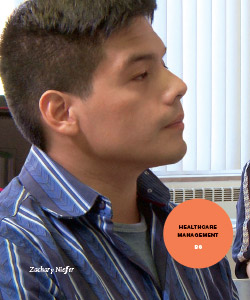 Zachary Neiffer '18 transferred from Ulster County Community College this past fall '15 and is enrolled full time in the BS in Healthcare Management. He is hoping to use his degree to manage an organization, such as the Ulster-Greene ARC, where prior to his full-time student status, he had been working. The HCM curriculum includes managerial accounting, health information systems, microeconomics, and others that, according to Neiffer are making him career-ready for administrative duties in a healthcare facility, such as a hospital or nursing home. He stated, "I'm confident with each and every step I take, there will be a better future for me because of what I've done here."
BS IN HEALTH AND OCCUPATIONAL SCIENCES (HOS), APPROVED 2015
This new bachelor's degree program serves two purposes: It extends the career path for our Occupational Therapy Assistant (OTA) students and prepares others for a variety of opportunities in healthcare-related careers.
For many OTA students, the long-term goal is to become a licensed occupational therapist, a position that requires a master's degree. The new BS in HOS offers a streamlined process for Maria OTA students to complete their associate degree requirements and transition to the four-year program. They also have the added bonus of being able to work as a certified occupational assistant after passing the national exam certification, while continuing their undergraduate education. The overwhelming majority of Maria OTA graduates—97 percent pass rate in 2014—receive their national certification.
The new HOS degree also has much to offer students who wish to work in health services. The BS in HOS provides excellent preparation for those who would face health-related issues in the workplace. Examples include coordinators for programs that serve the elderly or those with disabilities, medical or pharmaceutical sales representatives, and entry-level professionals in fields such as medical informatics. The HOS program offers a solid foundation in the natural sciences, making the BS in HOS a good fit for students who intend to pursue graduate study in the allied health fields like physical therapy, speech therapy or medical school.
David Moon '19 is a case in point. He plans to pursue a medical degree and, ultimately, to become a dermatologist. Moon chose the HOS program because it compares favorably with pre-med offerings at other colleges, enables him to remain in the Capital Region, and offers the personal touch that sets Maria apart from larger institutions.
BA IN LIBERAL ARTS, APPROVED JULY 2015
Maria's first Bachelor of Arts degree program provides a well-rounded education by combining broad learning in multiple disciplines with specialized study and work experience in one of two concentrations.
Liberal arts students will develop and sharpen essential skills in critical thinking, problem-solving, strategic planning, teamwork, and communications. As a result, students will graduate ready to pursue professional careers or graduate-level education and, perhaps most important, to engage in lifelong learning. Two concentrations—in communications or government—target fields of particular interest to the Capital Region. Required internships ensure that students graduate with real-world experience that can set them apart from the competition.
This new degree reflects the demands of today's global marketplace, which requires higher levels of education. The program recognizes the increasing value of a liberal arts education—and the need to make that education available to more students. To encourage students who'd previously set their sights on a two-year degree, the new BA program provides a seamless transition from Maria's AA in liberal arts and accepts transfers from non-Maria programs.
Advanced Nursing Options
Nursing education has long been one of Maria's signature strengths, with more than 40 percent of alumni graduating from the nursing program. These graduates can be found in the leadership and staff ranks of virtually every Capital Region healthcare organization—and in hospitals and healthcare facilities throughout the nation.
It's only natural, then, that Maria would take the lead in meeting the increased demand for higher education within the nursing profession. Studies link higher nursing education levels to better patient outcomes and to evidenced-based practices that benefit both organizations and patients. Furthermore, the Institute of Medicine has called for 80 percent of U.S. nurses to hold at least a baccalaureate degree by 2020.
Maria has responded with significant investments in nursing education and with two options to help existing registered nurses—including Maria AAS graduates—earn their Bachelor of Science Degree in Nursing (BSN).
BSN Degree Completion Program
Kirsten Jesaitis '16 came to Maria to earn an AAS in nursing. She had a bachelor's degree in psychology from the University at Albany and wanted to change her career path. Jesaitis applied to several programs in the Capital Region and says she chose Maria "because of its competitive nursing program and NCLEX (National Council Licensure Examination) pass rate."
Equally impressive is that Maria's program is ranked in the top 10 nationwide on a list of "Great Small Colleges for an RN-BSN Degree" by Master of Science in Nursing Degrees, an online resource of accredited programs.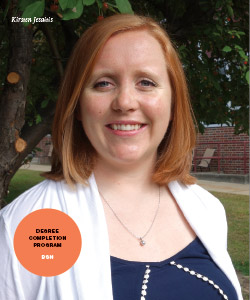 "Healthcare employers are looking for professionals who have higher degrees. Maria's Bachelor's degrees in health sciences lay the foundation for future employment and opportunities." — Kirsten Jesaitis, RN, '16
The College has similarly high job placement rates, and Jesaitis has experienced that firsthand. A preceptorship during her final semester led to a job offer at Albany Medical Center, where she now works in the Children's Hospital float pool.
Jesaitis quickly realized the value of continuing her education and, with the AAS under her belt, enrolled in Maria's BSN degree completion program. "Education is extremely important in the field of nursing as research in medicine is changing the way we look at and implement quality patient care," she says. "I also have plans to further my education beyond a bachelor's degree as either a clinical nurse specialist or nurse anesthetist."
Because she is an RN, has an AAS from an accredited program (Maria's), and has a bachelor's degree in a non-nursing discipline, Jesaitis qualified for Track 2 of the College's BSN degree completion program. That means she can earn her BSN by taking the required 45 credits over three semesters. "Many hospitals and employers are looking for nurses who have higher degrees," she says. "This bachelor's degree will lay the foundation for future employment and opportunities."
If she were an RN and had an AAS from an accredited program, but did not have a bachelor's degree, Jesaitis could still earn a BSN through Track 1 of Maria's program. In that case, she would have to complete 60 credits over four semesters. Both tracks prepare students for today's changing nursing environment and position them for continued success.
Under Development
Maria is poised to introduce more baccalaureate programs in the near future including an accelerated nursing program for career changers.
ACCELERATED BSN
Maria's proposed accelerated BS in Nursing has been submitted and is awaiting New York State approval. Students who enroll in this program would already have a Bachelor of Arts or Bachelor of Science degree in a non-nursing field of study. Therefore, they would enter the program with advanced standing of 60 credits and—provided they met the requirements for prerequisite courses—could complete their BSN in 16 months by attending Maria full-time. Successful completion would qualify students to take the NCLEX-RN exam and become licensed as a professional registered nurse (RN).
The Maria Difference
Although every Maria degree program— baccalaureate and associate—is customized to meet specific educational and professional objectives, all have common denominators that make the programs "uniquely Maria." Students from all disciplines cite a commitment to their success that is evident in the design and delivery of College programs, the involvement and experience of faculty, and the emphasis on student support.
BSN student Jesaitis is a case in point. "After attending several colleges, I've learned that it's important to choose a school that is supportive and has resources for your success. I have definitely found that in Maria College," Jesaitis says. "The biggest difference I've noticed is each professor's involvement in each student's success—in school and our future careers."
When asked to describe Maria and the Nursing Program, Jesaitis responds with three words: "Challenging, supportive, encouraging."
Maria's small class sizes provide the personal attention that makes an enormous difference in developing faculty-student connections. Flexible scheduling meets the needs of traditional and non-traditional students, and affordable tuition makes private college education accessible to students who otherwise might not have that option.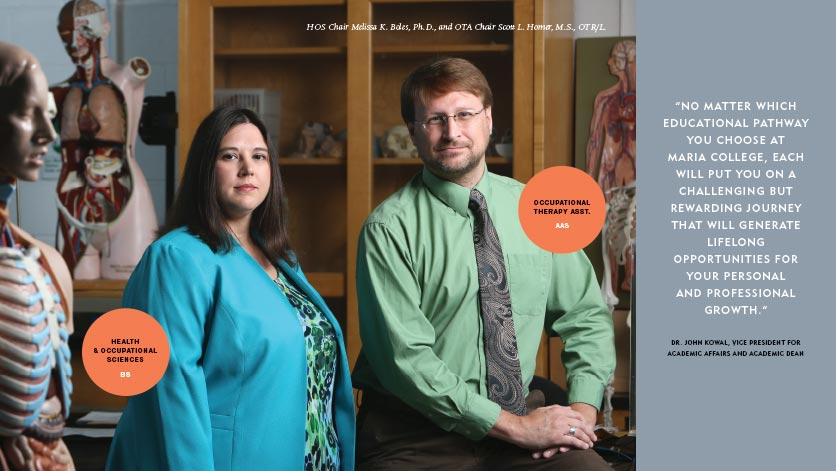 In addition, Maria's emphasis on graduating students who are work-ready provides an excellent return on students' investment in their education. A survey of 2014 graduates found that 99 percent were either employed in their field or continuing their education within one year of graduation.
While at Maria, students benefit from the College's values as a Mercy institution: integrity, compassion, respect, justice, and service to others. Upon graduation, the former students share those values with others. As graduates and ambassadors of the College, alumni draw on their Maria experience to improve the lives of individuals and the community as a whole. That is, and always will be, the legacy of Maria College.