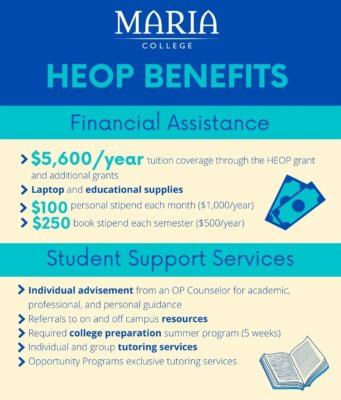 In partnership with the New York State Education Department, Maria College offers the Arthur O. Eve Higher Education Opportunity Program (HEOP), which enrolls first-time college students who are financially and academically underserved. HEOP is a unique program that is carefully designed to assist eligible students to persist and succeed at Maria College. HEOP offers individualized services that address student's academic and personal growth, offering an opportunity for extraordinary students to access higher education and realize their full potential.
We are currently recruiting new students for the 2022-2023 academic year. As alumni, you know the value of a Maria College education. Did you know that word of mouth is the number one way that students find out about Maria College? If you know any individuals interested in pursuing higher education at Maria, but are facing barriers to access, please mention HEOP as a pathway. Graduating high school age students and adult learners are welcome. See the HEOP student benefits listed below.
Please reach out to the Opportunity Programs team to receive more information or set up an informational meeting to learn more! Please email opportunityprograms@mariacollege.edu.