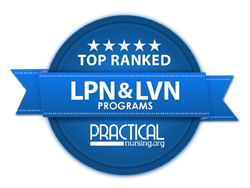 ALBANY, NY—Maria College's Practical Nursing Certificate (LPN) program has been ranked #10 in New York State by the "Practical Nursing" organization. Their mission is to improve transparency in the information provided to students for LPN and LVN programs.
The New York State Office of Professions lists 60 Licensed Practical Nurse (LPN) schools in the state; ten are in the Capital Region. Maria was the only LPN program from the region in the top twenty rankings. It is further distinguished by its #10 ranking. View the evaluated LPN programs.
Maria College's practical nurse certificate (PNC) is a 46-credit program designed for students whose interests are to begin working as a licensed practical nurse (LPN). Upon successful completion of the program, students are eligible to sit for the National Council Licensure Examination for Practical Nurses (NCLEX-PN). Maria graduates have almost a near-perfect pass rate on the national licensing PN exam.
In addition to the LPN program, Maria also offers an associate degree (RN) and a bachelor's degree in nursing completion program for RNs nursing, as well as bachelor's degrees in healthcare management, health and occupational sciences, liberal arts, and psychology and an associate degree in occupational therapy assistant.
Dr. Thomas Gamble, Maria College president, stated, "Maria's priority is to help students identify rewarding careers in fast growing sectors like healthcare. In addition to the LPN program, Maria offers degrees and certificates shaped to fit student interests through internships that align with employer needs. Helping students succeed is in everyone's best interests. Maria College is helping to build a robust and skilled workforce and economy in our region."
Maria has created agreements with other educational institutions in the region to build pathways between public and private institutions. New partners include SUNY Schenectady County Community College (SUNY SCCC), where their certified nurse aide (CNA) and home health aide (HHA) graduates can seamlessly transition into the Maria LPN program and with the Capital District Educational Opportunity Center (EOC), where their CNA graduates have a seamless pathway to the Maria LPN program.
Dr. John Kowal, vice president academic affairs stated, "The articulation agreement we created with SUNY SCCC will also enable their community health worker graduates to transition to our bachelor's degree in healthcare management program and receive six college credits upon enrollment. We are committed to working with educational partners to create pathways for students to advance their education and enter meaningful careers."
Find out more about the Maria College LPN program.
###
About Maria College
Maria College is a baccalaureate nonprofit, independent, co-educational institution, founded in 1958 by the Sisters of Mercy, and is one of 17 colleges and universities in the United States sponsored by the Conference for Mercy Higher Education. The College serves traditional and nontraditional students through day, evening, weekend and online classes. A student focused and highly affordable private college in Albany, NY with a 99% placement rate—employment and continuing education.
For Immediate Release
communication@mariacollege.edu