Live Stream of the Event:
MEDIA CONTACT:
Erin Clary
Director of Communications
Maria College
518-861-2570 Office
518-588-5802 Cell
eclary@mariacollege.edu
FOR IMMEDIATE RELEASE:
June 15, 2022
Maria College welcomes President-elect Lynn Ortale, PhD to campus
Albany, NY — Today, the Maria College community gathered to officially welcome Lynn Ortale, PhD to campus as its 6th President. She will begin her role on July 1, 2022.
Dr. Ortale and her family were welcomed by Maria College faculty, staff, students, Board trustees, and special guests Assemblymember Patricia A. Fahy, Assemblymember John T. McDonald III, and City of Albany Treasurer Darius Shahinfar.
Dr. Ortale joins Maria College during a time of growth, both in terms of its campus as well as its program offerings. The College recently received official accreditation for its very first graduate program – the Master of Science in Occupational Therapy, and announced the launch of its very first fully online option with the Bachelor of Science in Nursing program. Additionally, the College is curating its program offerings to meet community and student need, particularly in the health care sector.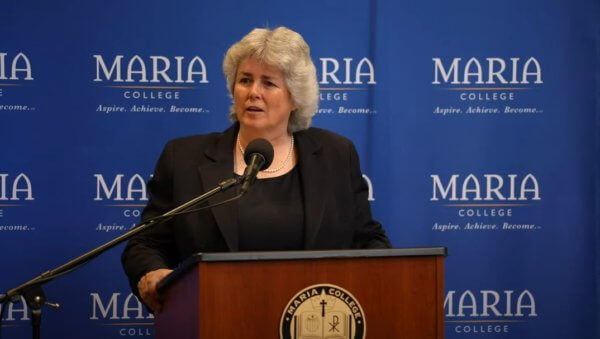 Speaking directly to her new constituents, Dr. Ortale said, "Thank you for your confidence in me in choosing me as your 6th president of Maria College, I stand before you humbled by your choice and eager to serve as your future leader. Mindful that we stand on the shoulders of the Sisters of Mercy, I pray that Catherine McAuley will bless us and watch over us as we begin this new chapter in Maria College."
She then offered Board Chairperson Mary Jo LaPosta, PhD, a wood and brass desk compass as a symbol of the Maria College Strategic Compass and of their joint commitment in leadership.
Dr. LaPosta spoke to Dr. Ortale's qualifications as a leader in higher education administration for more than three decades.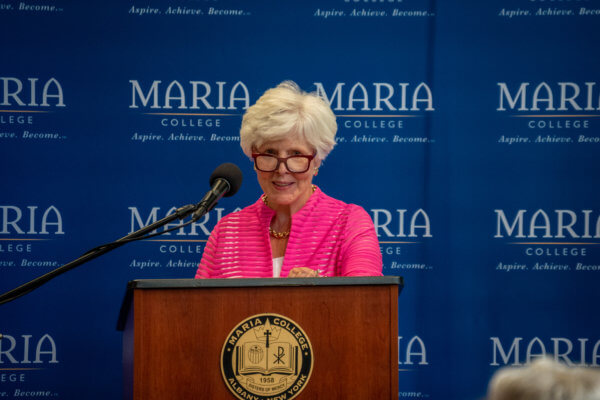 "Dr. Ortale's career has been a commitment to assisting underserved and diverse populations while enhancing student life and co-curricular opportunities to strengthen the learning communities she led, said Dr. LaPosta. "Ultimately, Dr. Ortale proved to be the strongest candidate based on her extensive experience in faith-based higher education, and her commitment to the success of the students, faculty and staff of those communities. Her 'mission-in-action' approach to leadership directly aligns with the core values of Maria College to provide career-relevant opportunity education to all that may benefit. We believe that Dr. Ortale is the most qualified candidate to lead Maria College into the future that has been so dramatically re-shaped by the pandemic. We are confident she will increase opportunities for students while maintaining our Mercy identity and values."
Board Trustee and Chair of the Presidential Search Committee Giovanni Virgiglio, EdD spoke to attendees about the process in which Dr. Ortale was chosen.
"Throughout every step along the way, president-elect Ortale distinguished herself among a very diverse and talented pool of candidates. From the stories she told on paper, to her semi-finalist interview, and then of course her visit to campus, the feedback we received was remarkable and made our decision for the search committee, despite an arduous process, a very easy decision."
Dr. Ortale will replace Dr. Thomas Gamble, who has served as president for six years before announcing his retirement plans for the end of June 2022.
###
About Lynn Ortale, PhD: Dr. Ortale comes to Maria College with more than three decades of experience in higher education administration in the context of Catholic Intellectual Tradition. For the past 13 years, she has served as Vice President for Student Life at Chestnut Hill College in Pennsylvania and is currently an adjunct faculty in DeSales University's higher education administration graduate program in Center Valley, Pennsylvania.
Some of Dr. Ortale's notable career accomplishments include:
As Vice President for Student Live at Chestnut Hill, she provided leadership and vision for the Division of Student Life and Athletics where she lead strategic planning and assessment, managed student behavioral and psychological interventions and guided the facilities team through ever-evolving COVID-19 guidance and protocols.
As Dean of Students at Chestnut Hill, she enhanced existing infrastructure to support student academic success and personal development.
As Assistant Vice President for Campus Life at Saint Joseph's University, she provided leadership for Campus Life including the expansion of student leadership opportunities while increasing participation.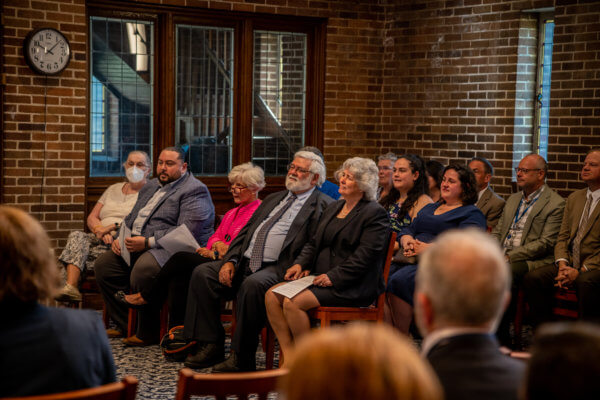 In addition to her administrative and teaching experience, Dr. Ortale is an active and natural professional speaker, having delivered more than 40 presentations to various national associations on myriad topics such as student suicide prevention, leadership development, and neurodiversity and learning differences.
Additionally, she is a commission evaluator for the Middle States Commission on Higher Education (MSCHE), a role that brought her to Maria College's campus back in 2019.
About Maria College. Founded in 1958, Maria College is one of 17 colleges and universities in the United States sponsored by the Sisters of Mercy of the Americas. The private, co-educational, Catholic college in Albany serves approximately 800 students in a variety of bachelor degree, associate degree, a master's degree, and certificate programs including liberal arts, healthcare management, nursing, psychology, occupational therapy, and health and occupational sciences. mariacollege.edu