Richard Siek continues his wife's legacy with the Andrea Lewis Siek Endowed Nursing Scholarships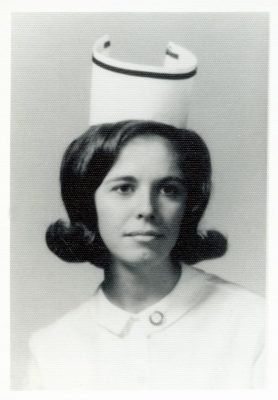 Richard Siek remembers when he first met his wife Andrea — they were working at Samaritan Hospital in Troy, Andrea as Register Nurse in charge of the surgical floor and Rich as a janitor, and he immediately noticed her. He took extra care to set up the nurses' break room, in the hopes that she would notice him. Well, it worked — and one thing he quickly noticed about her was the extra care she took with her patients.
"She wanted to become a nurse to help people — her whole life she helped people, even after she retired from nursing," he said. "She always enjoyed the people, and strived to help, and in my book she succeeded tremendously."
Andrea Siek was a 1969 graduate of St. Peter's School of Nursing. She worked at Samaritan Hospital from the time of her graduation until 1977. After a long illness, Andrea passed away in 2017, but not before touching the lives of her friends, family, colleagues and even strangers.
Donna Conroy, RSM, a Maria graduate from 1972, is a friend and former co-worker who got to know Andrea not long after completing Maria's nursing program. "Andrea was my mentor," Sr. Donna said. "I worked in the same nursing unit as her and was able to learn, as a new graduate, how smart she was. I would often say to her, 'I want to be a nurse like you when I am out five years!"
Whether on the nursing floor or in her personal life, Andrea's compassion was always present. She would anonymously buy Christmas presents for families who had fallen on tough times, each year looking for people to help. Often, if she saw someone in line at the grocery store who was a little short on money, she'd offer up a folded $20 bill while saying, 'Excuse me, I think you dropped this.' She would then leave before they would have time to feel embarrassed or thank her. "I can't tell you how many times she left her groceries in the cart and just walked out after that! But she was so happy to do it, to help someone in need," Rich said.
Andrea's love of healthcare also had a personal significance for her. She battled serious health issues throughout her life and several times found herself in the hospital with life threatening ailments. She knew the value of good nurses, both as a patient and a professional.
The Andrea Lewis Siek Endowed Scholarships at Maria College will be offered to train future generations of nurses. Rich chose to endow the fund at Maria College because of its outstanding reputation and because it is the successor to St. Peter's School of Nursing, where Andrea attended. Scholarship recipients must be nursing majors who show financial need and maintain a strong GPA. Because they are endowed scholarships, they will go on in perpetuity. Rich explained that thanks to Andrea's smart saving and investing he is able to do this to carry on her legacy. "My wife took care of all the finances and we lived simply," he said. "I still live simply and I don't want to change my lifestyle. I'd rather use this money to help people the way she always enjoyed helping people in her life."
After Andrea's death it was important for Rich to memorialize his wife so he established the scholarships. And although Andrea was modest and would certainly object, Rich named them after her. Each year the Andrea Lewis Siek scholarships will help bright and hard-working nursing students at Maria College. Thanks to the Sieks' investment in a Maria education, generations of students will carry on Andrea's work of nursing compassion.
"Who knows the snowball effect — the people helped by this will go on to be excellent nurses who will save lives, and that good ripples out into the future," Rich said. "I think she's guiding me in all of this — I don't believe in coincidences, and there have been too many things that have happened since she passed that shows me I'm doing the right thing."