Professional and student-staffed writing center offers workshops, mentorships, seminars
ALBANY, N.Y. (Oct. 4, 2021) — Maria College has officially opened the Troy Savings Bank Charitable Foundation Trust Writing and Communication Center (WCC) to its students for the fall 2021 semester. The center will provide a professional and student-staffed, mission-oriented service offering workshops in writing, resume development, job-hunting strategies, and other related professional services, as well as well as mentorship and research assistance for graduate students.
The WCC, located in Maria's Frank E. O'Brien Jr. Student Support Center, provides technical support and training for students using the college's learning technologies such as Blackboard, Microsoft 365, and WCOnline. The center also lends its technical assistance to faculty, staff, and students relying on the campus technological infrastructure through the Maria College Center for Excellence in Learning and Teaching (M-CELT).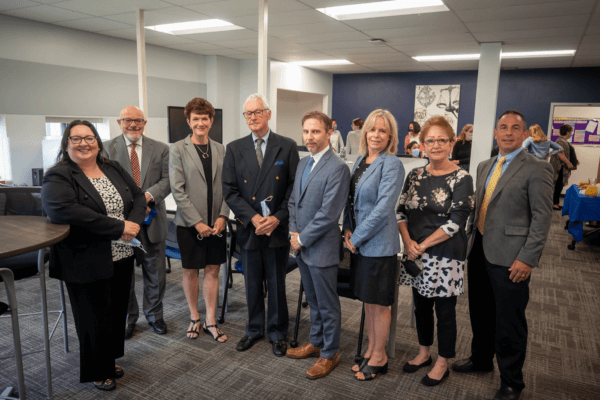 Dr. Jason Coley, the Assistant Dean of Academic Affairs, oversaw the WCC's launch and helped align the Center's services to Maria's mission. "By providing a space devoted to the development of actionable skills and familiarity with communication technologies, students can achieve not only academic success but also invest in their own self-advocacy," said Coley.
Through the WCC, Maria College is also now able to offer Graduate Professional Services for their Master's in Occupational Therapy (MSOT) students. The mission of the Occupational Therapy Graduate Professional Services is to prepare graduate students to develop the clinical reasoning and critical learning skills to achieve evidence-based occupational therapy practice while providing mentorship in professional competence, conscientiousness, and knowledge. On Wednesday, Sept. 15, Michelle Cardone, Professional OT Tutor, hosted the first ever graduate service seminar.
"The WCC at Maria College allows the Foundation to serve our community by helping people develop needed skills for the workforce of tomorrow." Leslie Cheu, Executive Director of the Charitable Foundation Trust
"I'm proud to see the Writing and Communications Center now open as part of our efforts to expand and enhance student support services across the campus. With the WCC also providing support for our graduate level students, we are confident that this center will have a tremendous impact on our student success and experience," said Dr. Thomas Gamble, President of Maria College.
"Our mission ensures that every student has not only the tools, but the support to succeed. The support offered in the center serves as a means to make career-related opportunities accessible for all of our students continuing to pursue education at any point in their lives," said Victoria Battell, Senior Vice President of Maria College.
The official blessing and opening of the WCC took place on Tuesday, Sept. 28 as a part of Maria College's Mercy Week celebration, Sept. 24 through Oct. 1. For the full schedule of Mercy Week events, visit mariacollege.edu/mercy-week-2021.
###
About Maria College. Founded in 1958, Maria College is one of 17 colleges and universities in the United States sponsored by the Sisters of Mercy of the Americas. The private, co-educational, Catholic college in Albany serves approximately 800 students in a variety of bachelor degree, associate degree, a master's degree, and certificate programs including liberal arts, healthcare management, nursing, psychology, occupational therapy, and health and occupational sciences. mariacollege.edu