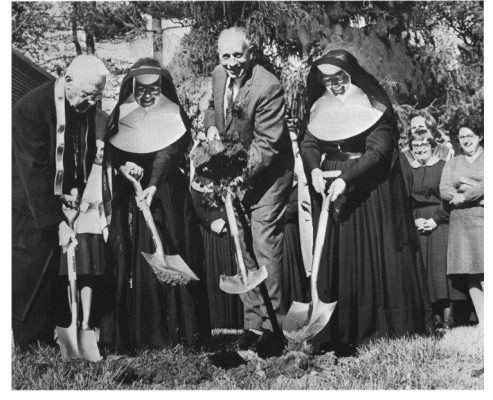 Maria College was founded in 1958 by the Religious Sisters of Mercy to serve as a sister formation college, an institution providing higher education for the community of sisters. Under the visionary leadership of Maria College's first president, Sister Mary Borromeo Warren, the College's focus on solely educating sisters changed, and the college received permission to open its doors to the public in 1965.
In the early 1970s, the college opened a preschool that served Albany families for more than 40 years. Now closed, the campus school building has been renamed, Mercy Hall, and was dedicated in 2017 to the Frank E. O'Brien, Jr. Student Support Center. The Maria Office of Student Affairs provides caring service to Maria students so they feel welcome, supported, and enabled to meet their goals. Support services include tutoring, pastoral care, and career guidance.
In 1975, Maria College purchased a cloistered convent campus that abutted the administration building grounds. This beautiful campus area, now known as Marian Hall, is home to nursing, health sciences, faculty offices, a student lounge and a great hall that is frequently used for campus events. Known for its stunning architecture and inner courtyard, Marian Hall was awarded a designation by the Historic Albany Foundation in 1986. Adjacent Marian Hall is the campus green – a large area that provides a relaxing venue for students between classes and for showcasing major campus community events – including the nursing white tea ceremony.
Though 60 years have passed since the College's founding, you can find many of the original architectural elements today. The Sisters of Mercy constructed the original administration building in 1959 after a fundraising drive, and today, it remains a vital part of our campus life. Recently renovated, it houses liberal arts faculty offices, classrooms and science labs, the popular student café, fitness center, Maria Campus Store, library, business office and the president's office.
Maria College is one of the 17 institutions sponsored by the national Conference for Mercy Higher Education network, which currently enrolls more than 40,000 students throughout the United States. Still located in a quiet, residential section of Albany, New York, Maria College serves approximately 800 students and boasts a charming and intimate campus that embraces an academic atmosphere both timeless and contemporary.
Although chartered in 1958 as a junior college, the original intent by Maria's first president was for the institution to become a four-year college. This dream has become a reality—Maria College offers a Master's program along with various four- and two-year degrees and certificate programs, providing new opportunities with flexible scheduling and highly affordable education for residents of the Capital Region. Take a look at the majors we offer for the most in-demand careers.
Maria College Today
Today, Maria College helps people begin a path to a career of helping others. We offer academic programs in health professions, nursing, and liberal arts. You can start down the path to a career in healthcare by earning a bachelor's degree in Healthcare Management or Health & Occupational Sciences. We also offer a nationally ranked associate's degree program in Occupational Therapy Assistant. Our catalog of degrees includes RN programs and occupational therapy courses. We have one of the most well-respected nursing programs in the Capital Region. These programs include bachelor's degrees in Nursing, an associate's degree in Nursing, and a Practical Nursing Certificate.
In addition to healthcare and nursing programs, Maria College can provide a liberal arts education with a bachelor's degree in Liberal Arts or Psychology, as well as associate's degrees in Liberal Arts and General Studies. Our programs will give you a new perspective on the world and point you in the direction of new opportunities to help you shape your career.
Apply Online Today
Maria College is the most affordable private college in the Albany, NY area. We offer flexible class schedules, including online courses. With a 14:1 student-to-faculty ratio, you can enjoy small classes and the attention you need, so you won't get lost in the shuffle. Find the support you need to start your career and begin a new life. Contact Maria College today to apply.