Practical Nurse Certificate (LPN)
Your first step toward a nursing career
Our Practical Nurse Certificate Program prepares you for a career as a licensed practical nurse (LPN). You'll attend class for four semesters, or about 16 months*. During that time, you'll earn 30 nursing and 16 liberal arts credits. You'll also develop the knowledge and skills to provide direct nursing care in a variety of settings.
*Note: these are nursing classes only. A transcript review will determine if you need other prerequisites in addition to the nursing classes, which could result in two additional terms of study and evening options available, but not on the weekend.
Weekends and evenings
Most courses—including all those that require off-site clinical experiences—are held on weekends. The program begins with the spring semester in January, with weekend lecture and lab classes. Depending on how many prerequisites you need, you may also take some evening courses.
After the first semester, courses continue every weekend through the summer, fall, and following spring. You attend classes and labs every other weekend and, on opposite weekends, to fulfill your clinical requirements.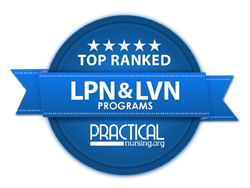 One of New York's best
Students who complete the required course work are eligible to sit for the National Council Licensure Examination for Practical Nurses (NCLEX-PN). Maria graduates have a near-perfect pass rate on the exam, consistently surpassing their peers in other New York LPN programs. This strong performance has earned Maria a top 10 ranking in New York State from PracticalNursing.org.
College credit
The Practical Nurse Certificate (PNC), a program within the Maria College Department of Nursing, is a 44-credit certificate program. Maria students also receive college credits for their LPN courses (28 in Nursing, 16 in Liberal Arts and Sciences). As a result, LPN program graduates may qualify for advanced placement in AAS programs offered at Maria or other colleges—giving you a head start toward a career as an RN.
Consumer Information

Please click here to review data on financial and program completion data.
Licensed Practical Nurses (LPNs) can expect a bright future as the industry job growth is above average in comparison to other occupations. To learn more, please visit the U.S. Department of Labor Statistics.