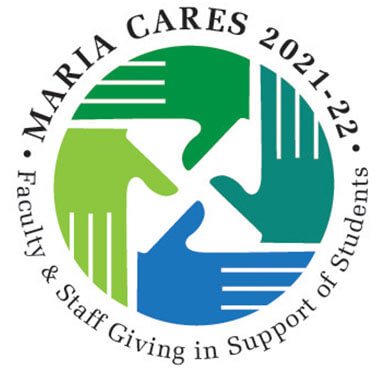 Giving in Support of Students
Thanks to your past generous support, the Maria Cares Campaign fund has made a difference in the lives of many students! Last year, 65% of employees contributed to Maria Cares – raising $14,810.17. This is a remarkable rate – well above the 43.7% national average for like institutions!
Your contributions have helped students with unforeseen financial hardships such as, covering childcare expenses after a job loss, paying utility bills, and car repairs. Your participation in Maria Cares has allowed students to continue their studies and achieve academic goals.
We hope you will considering contributing to this year's Maria Cares Campaign so that we can continue to provide critical financial assistance to students in need. But please know that your gift — of any amount — matters! To demonstrate our support for our students, we are looking for 100% participation. Download this printable gift form or donate online to make your gift today. Please drop off printable gift forms, along with your pledge, to the lockbox in the development office (Marian 101).
Thank you!
Mission & Advancement